Pricing#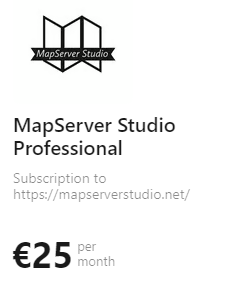 MapServer Studio is currently in its early days of development. Purchasing a subscription brings the following benefits:
Support the ongoing and future development of MapServer Studio

Support continuing maintenance and feature development of the MapServer project (see contributions to MapServer).
Note all payments will be billed to Geographika Ltd.
FAQ#
Q

:

Is there a free plan?

A

:

MapServer Studio currently allows users without a paid subscription to create and generate maps. All map images contain a "MapServer Studio" watermark image.

Q

:

Will more pricing tiers be available?

A

:

The road map for development includes plans for advanced features such as allowing data sources from private S3 stores, and one-click publishing and hosting of maps.